Birthday climbing didn't actually happen but that didn't matter; climbing was a secondary purpose of the trip this year, behind sharing my daughter's inaugural foreign foray and spending time with my significant better half. Instead, the day was spent chilling, watching bottles sterilise in a pan of boiling water and then going for a nice little walk around the nearby Vartry Reservoir.
I say around, we didn't actually make it all the way around, it's absolutely massive and not the most romantic of walks. This is a fantastic metaphor for Ireland (or at least the Wicklow National Park): they have some fantastic scenery and some wonderful places but really don't know how to market it. North Wales is similar, in that we really don't make the most of the assets we have here to their full potential, but there is politics in play and it's not quite as simple. Perhaps that is the case in Ireland too, and that there is some deep seated reason that the local communities do not want to attract large quantities of tourists but without knowing that, all i can say is they really don't make the most of the wonders they really have.
Here is the perfect example. I have just know googled "Vartry Reservoir" to find a link to post on aforementioned name and found, to my great shock, this video:
Now until right now, i had no idea about this at all. We didn't see this and would've quite like to! Instead we were treated to a mediocre gravel path, half maintained but not to any exceptional standard with signs only for restrictions on fishing and an interesting A4 print out about a white cross built into a wall. If that spillway was in the Lakes, it would've been given brown signposts for miles around.
What they do advertise often doesn't live up to it's billing. After our walk, we headed into Roundwood for a traditional birthday dinner out and opted for "the highest pub in Ireland"; Kavanagh's Vartry House at the top of the village. This is a pub (that looks nothing like the website by the way) that had a sign outside claiming to be the highest pub in Ireland but a quick Google search brings up no less than three other pubs. Now, i really couldn't care less if i'm drinking at a higher altitude than the others, (for those that are, check out this lengthy thread on a message board, that i could not be bothered to reach the end of) but inside was a less than charismatic inn, seating plenty of stereotypical Irishmen watching the horse racing with their betting slips in their hands. Our dinner was pleasant, nothing to write about really but the place really was incredibly unspectacular. Perhaps the people of County Wicklow just don't have the same ideas of what constitutes quality to visitors?
Not wanting to berate the good Irish people too much, i must say that they are just that: good, friendly and accommodating. The barman was incredibly friendly and pleasant with us, as was Jim at the Roundwood Campsite and indeed everyone else we met for the duration of the trip. Jim in particular would greet us with a cheery smile, a happy wave and often as not, a nice chat whenever we approached or passed him and did make the week just that little bit nicer.
An exception to the lack of tourism is indeed the village, lakes and valley of Glendalough and indeed, the day after my birthday was indeed a climbing day. Parked up at the shores of the lower lake, it was now Saturday and obviously that bit busier; although the number of confused looks and questions about the pads wasn't as many as is common.
Up at the crag and Em stayed put at the ruins with Roo and i headed off, intending to scout out some projects before touching base again. I got a bit distracted on the Big Jim boulder to be honest, and wasn't in somebody's good books by the time i returned. A little oblivious to what i'd done wrong – in my own inimitable way – i headed over to the Big Jane boulder instead…
These two blocs are touted as some of the best in Glendalough and so surely some of the best in Ireland. Big Jim houses the easier or the routes, Jane the tougher and i was keen to have a look and see what was there. Turns out, it looked really good.
The big one for me was Andy's Arete 6c from stand with a 7a+ sit start version that i found two climbers working: Ryan and Rocio. Several other lines did inspire on this bloc, thankfully shown to me by Ryan and he pointed out the excellent looking Rhythm and Stealth 7a and The Groove ss 7c which both looked immense, albeit with slightly worse landings. The Arete certainly remained the one to grab my attention.
They were working the start from sitting and despite being shut down by grades somewhat – something i will discuss more in another post – i figured it was still well within my grade and opted to join them. Between us, we figured out the beta, thanks to Rocio and her cheeky heel hook to start and the line so very nearly fell in a single session before a slightly abrupt departure.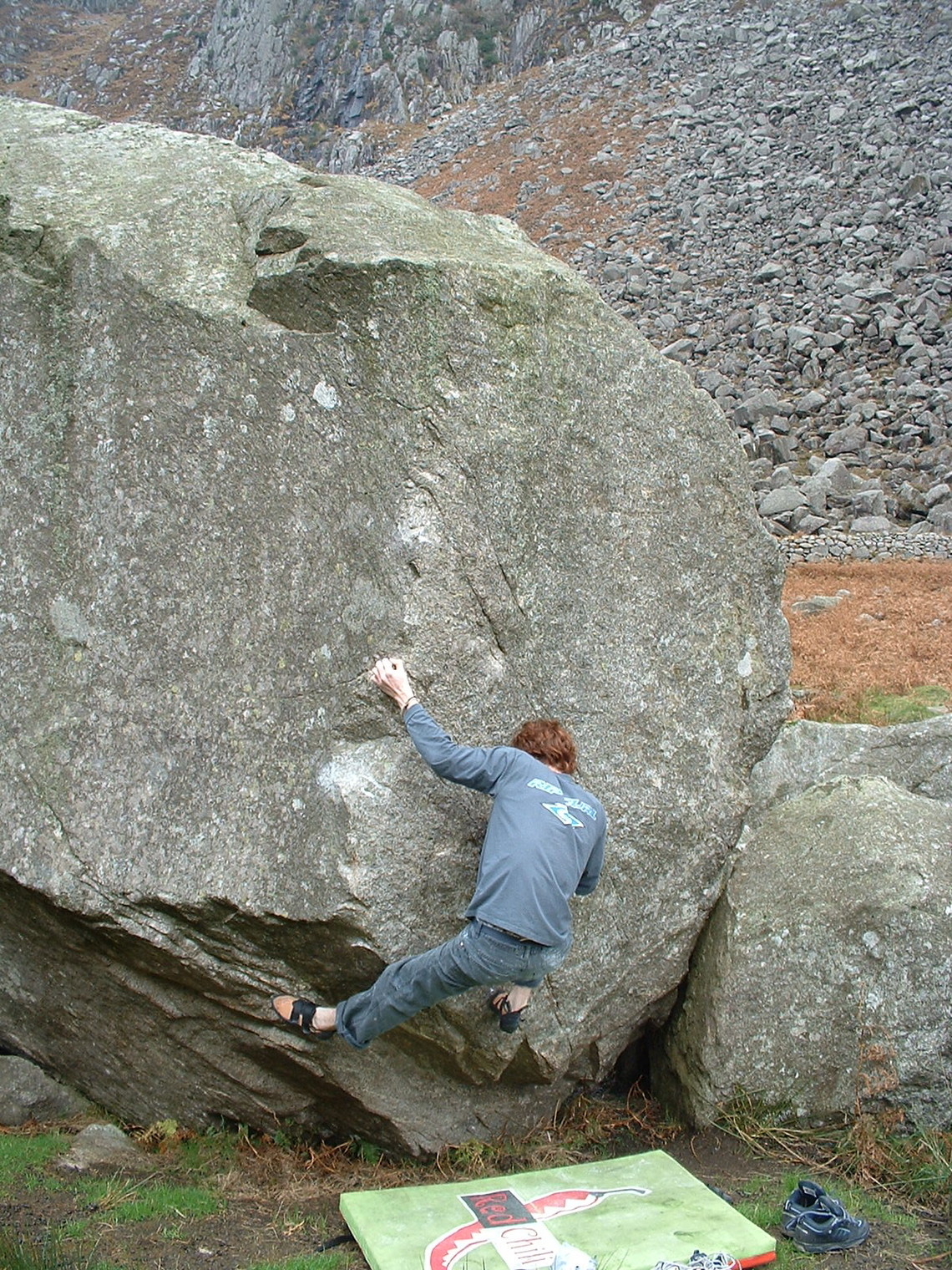 It was an excellent line although i fear without Ryan's help, i'd have struggled to find it properly. The guidebook, Bouldering in Ireland by David Flanagan covers the entire country of Ireland, with a large swathe dedicated to the Wicklow mountains. Yet while at home it inspires hugely, it is massively lacking as even a half decent guidebook.
There are practically no maps, photo topos for boulders are scant and the descriptions for the problems that aren't photographed are often useless. Take this line for the 8a on the Big Jim boulder: "Powerful? Yes. Pointless? Yes."
Now this unnamed problem is even photographed but fails to provide enough detail to even know where to start. It was only when i bumped into some other local climbers who gave me a bit of a hint but considering they were working the lower grade problems around the corner, i couldn't expect detailed beta.
While i appreciate opinion is a guidebook, it needs to be first and foremost just that: a guide. It is (supposed to be) a book that shows you where the lines go, where they start and sometimes finish and at the very least, how to get there. Glendalough wasn't a problem but try and find anywhere less obvious – like every single other crag in the area – and the guide lacks even the slightest bit of quality.
David Flanagan has also written other books, notably a book called Bouldering Essentials; an excellent read aimed at those getting into bouldering, with some detail for those operating in the slightly higher grades. It tails off once you look for advice on climbing "hard" and in many ways his Irish guidebook works in many the same way.
In much the same way as i described earlier with Irish attitudes towards tourism, rightly or wrongly i might add, the solitary guidebook for the area seems to contain the same shortcomings. As someone on his very first trip to the country, i can say i'm indebted to those friendly locals i met as without them, i would suggest that even at this wonderfully accessible location, i would've really struggled to find anything. Given my level of experience, I'm classing this as a bit of a fail from them.